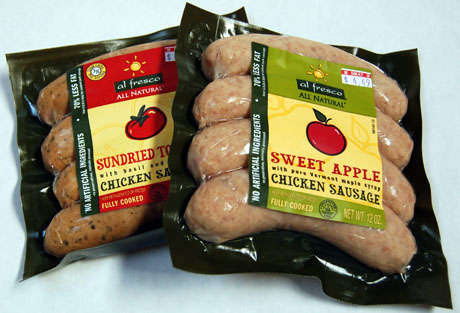 In June of last year, I
proposed
they make something that could read my mind and mood, find the perfect song to match it and deliver the song to my ears. I'm still waiting...Here are two other
things they should consider inventing
:1.
GOOD OR BAD?
A device built into the packaging of perishable food items that evaluates (up to the minute) its freshness and let's you know exactly how many days, maybe hours you have until the food item goes bad.It could provide some storing, eating and cooking tips too, like: "Fresh for three more days, store in the bottom bin and set to chill, cook with eggs to bring out flavor!"
WHY?
: My housemates and I have spent countless minutes toiling over the freshness of almost the entire contents of our fridge from Andrea's spinach feta chicken sausage to my sweet basil and tomato pasta sauce, we just don't know. We're tired of sniffing, passing around and taking tiny half bites, fearing poisons.--
2.
WAKE UP CALL:
A device that wakes you up when you will feel the most rested.Apparently, someone's already thought of this. It's called the
SleepTracker
. (thanks, Jenny!) But it's $200, when I think it should be closer to $50.
WHY?:
When was the last time you woke up and felt like you were ready to jump out of bed, brush your teeth, get naked and then get clothed? For me, it was last Saturday when I slept in until 11:30 am, but that doesn't happen often enough for me to feel like a well-rested person overall. Usually I wake up feeling exhausted. That isn't cool when I've just slept 8 hours...
--J