I am in the middle of reading this special report from
The Economist
on the Future of Finance, which takes the reader from the root causes of the collapse to the ways we should think about finance to ensure it doesn't happen again, or at least not too soon again. I'm going to put some quotes on here that helped me understand things. I will continue to update as I read...
Also, if you want to see a bunch of photos (like the one above) of
sad guys on trading floors
.. this has been made.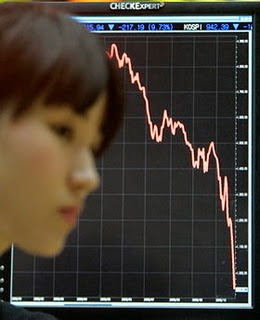 "Modern finance is supposed to be all about measuring risks, yet corporate and mortgage-backed
CDOS
* were a leap in the dark. According to Mr Derman, with Black-Scholes [a mathematical model] 'you know exactly what you are assuming when you use the model, and you know exactly what has been swept out of view, and hence you can think clearly about what you may have overlooked.' By contrast, with CDOS '
you don't quite know what you are ignoring, so you don't know how to adjust for the inadequacies
.'""Edmund Phelps, who won the Nobel prize for economics in 2006, is highly critical of today's financial services. '
Risk-assessment and risk management models were never well founded,'

he says.

'There was a mystique to the idea that market participants knew the price to put on this or that risk. But it is impossible to imagine that such a complex system could be understood in such detail and with such amazing correctness...the requirements for information...have gone beyond our abilities to gather it.
'"
*CDOS = collateralized debt obligations